Latex Mattress Thickness
Latex Mattress Guide: Everything You Need to Know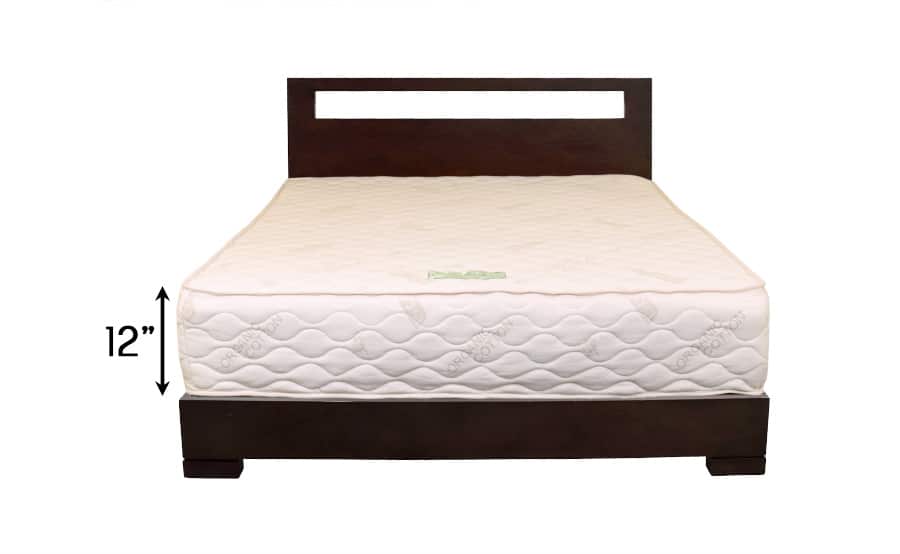 How To Choose Your Latex Mattress Thickness?
Algorithm for choosing the height of the mattress:
1) Surface mattress
You need to decide on what surface you will put the mattress. If you inherited a mattress or you have a sofa, including a folding one, but it is uncomfortable to sleep, then you need to purchase a thin mattress – pad (topper) 3″ (7.5 cm) thick.
2) Your weight
If you are staying on a topper (mattress pad), then remember or check your weight with weights. If the mass of the person does not exceed 80 kg (now we are talking about a single bed), then a lining 2″ (5 cm) thick will be enough for you, but if the load on one berth exceeds 80 kg, then you should think about a mattress pad 3″ (7.5 cm) thick, since a pad of 2″ (5 cm) with this weight will not be able to provide decent comfort.
Toppers are made at the factory by cutting, along with the thickness, 6″ latex mattresses into 2 or 3 parts, depending on what thickness of topper is required. If you need a mattress covers 3″ (7.5 cm), then 6″(15 cm) is cut in half, if you need 2″ (5 cm), then into 3 parts. Thus, on some patches, there may be no stamp 2″ (5 cm), or half of the stamp 3″ (7.5 cm) is visible.
3) Full-fledged mattresses
If you do not have a spring mattress and you are not sleeping on the sofa, but there is a bed without a mattress and you really want to sleep comfortably on 100% natural latex, then you need to look at full-fledged mattresses 9″ and 15″ thick.
4) The base of the bed
In order to choose between 6″ and 11″, look at the base of the bed, if the base is flat and hard, and your weight is not more than 210lb (95 kg), then a mattress 9″ high will be enough for you. If the base of the bed is slatted or your weight is more than 210lb (95 kg), then there are no options – only 11″ mattress.
Well, you will say, but if the base is slatted, the weight of the sleeper, for example, 155lb (70 kg), and the budget for 15″ of mattress is not enough. What to do in this case? Elementary, we will answer – put a sheet of chipboard, fiberboard or plywood on your lattice and sleep to your health on a 9″ thick mattress.
5) Mattresses higher than 11″
Such high mattresses are mainly obtained by gluing two thinner ones, and this, due to the use of glue, completely kills environmental friendliness and hypoallergenicity.
Secondly, you are not going to get more comfort, you will not feel the difference in pleasure between 9″ and 15″, thirdly, such mattresses are very heavy and insanely expensive. As you can see, there are no pluses, but there are enough minuses.
However, it happens that the recess in the bed is so large that 8″ will not protrude beyond the edges of the bed, but you really want latex and the budget for the mattress is decent. In this case, we can recommend you order a jacquard cover of the required height and buy 2 mattresses with the same length and width.
For example, you need a mattress 90x80x16, easily, order a case of this size and buy 2 mattresses – 90x80x8 and 90x80x8. Put the mattresses in the cover, zip-up and there you are!
You got a mattress with a height of 16″, which will not differ from a monolithic block but will have the advantage: if you need to remove it from the bed or carry it, you can easily unbutton the zipper into 2 lighter mattresses.
Let me remind you once again that the mattress with a thickness of 11″ is very comfortable by itself and can withstand a large load. You can safely jump on it (don't break the main bed).
Mattress Thickness Guide
Typical Mattress Thickness & Prices
Technology:
Dunlop/Talalay Latex



Standard Mattress
Thickness 14"



Twin Size 38x75: from - $1212

Twin XL 38x80: from - $1284

Full Size 53x75: from - $1998

Queen 60x80: from - $2141

King Size 76x80: from - $2427

Cal King 72x84: from - $2427

Split King 76x80: from- $2498

Twin Size 38x75: from- $799

Twin XL 38x80: from - $899

Full Size 53x75: from - $1099

Queen 60x80: from - $1299

King Size 76x80: from - $1499

Cal King 72x84: from - $1499

Split King 76x80: from - $1698

Technology:
Talalay Latex


Standard Mattress
Thickness 11"



Twin Size 38x75: from - $749

Twin XL 38x80: from - $849

Full Size 53x75: from - $949

Queen 60x80: from - $1049

King Size 76x80: from - $1249

Cal King 72x84: from - $1249
Twin Size 38x75: from - $699

Twin XL 38x80: from - $749

Full Size 53x75: from - $849

King Size 76x80: from - $1099

Cal King 72x84: from - $1099

Split King 76x80: from - $1398

Standard Mattress
Thickness 9"



Twin Size 38x75: from - $595

Twin XL 38x80: from - $625

Full Size 53x75: from - $750

Full XL 53x80: from - $795

King Size 76x80: from - $1150

Cal-King 72x84: from - $1150

Mattress Thickness
7"-13"



Twin Size 38x75: from - $749

Twin XL 38x80: from - $799

Full Size 53x75: from - $1099

Queen 60x80: from - $1199

King Size 76x80: from - $1399

Cal-King 72x84: from - $1399
Mattress Sizes and Dimensions Guide
What can be recommended for comfortable sleep?
Choose Organic Natural Latex Mattress